Potter's Stool
This potter's stool combines fine quality workmanship and comfort-oriented design. It is 18" high, making it perfect for use with most wheels. Unitized welding assures strength in the one-piece gray tubular steel frame. The seat is 14" in diameter and is made of heavy-gauge cold-rolled steel with curled edges to reinforce the seat and eliminate safety hazards. A 1/8" thick tempered hardboard seat is recessed into the frame.
Quick-Center System
Center up to 4 pounds of clay quickly, easily, and accurately every time. Great for students, beginners, and others who may have hand or wrist issues that make centering the clay difficult or painful. The Quickcenter System includes:
One universal bat adapter
One recessed bat (14"w) with Quick-Center bat pins
One Quick-Center canister/plunger
Five false bottoms (you'll only use one at a time, but having spares is always good!)
#1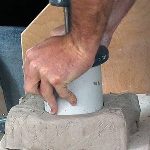 Load the Canister/Plunger with clay by pressing into wedged clay.


#2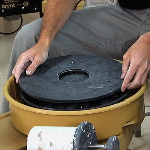 Place the Universal Adapter and Recessed Bat onto the wheel head using the QuickCenter bat pins.


#3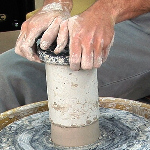 Center the Canister-Plunger into the Recessed Bat Set, release the clay and begin throwing.